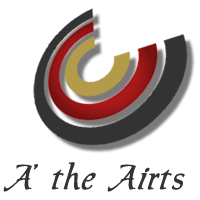 Find out what's been happening at A' the Airts!


SANQUHAR GLOVE WORKSHOPS
Opportunities in learning to knit the beautiful Sanquhar gloves take place at the beginning of October when May MacCormick, one of the world's leading lights in hand-knitting traditional Sanquhar gloves, will be running courses for both beginners and experienced knitters at A' the Airts. Click here for further information.
EXHIBITIONS
The beautiful stitch work of the Dumfries and District Embroiderers Guild is showcased in a special exhibition at A' the Airts from now until Wednesday, 23 September.
The works formed part of the recent triennial exhibition by the Dumfries and Galloway textile collectives entitled Fabric, Fibre, Thread and exhibited by the guild in conjunction with the Solway Quilters and the Spinners, Weavers and Dyers.
The Crawick Multiverse exhibition can be found on the first floor in the small studio at A' the Airts. The exhibition provides an information stop for Charles Jencks' landart at the former coalmine site and features original artwork by Jencks, a 3D model of the Multiverse and two of the costumes made by Alex Rigg and worn by the performers at the June launch.
ENTERTAINMENT
Multi award-winning Scots trad singer Emily Smith made a rare appearance to the region's small stages when she came to A' the Airts on Friday, 18 September, as part of her Scottish tour. She was accompanied by multi-talented Kiwi musician Jamie McClennan. The event provided an exceptional chance for the Upper Nithsdale community and Emily's many followers to see and hear her outside Scotland's larger stages. The concert was a complete sell-out and the two musicians received the highest praise and a standing ovation from a truly delighted audience.
The South West Picture Show presents The Angels' Share at A' the Airts on Friday, 2 October at 7pm. This is a warm and witty film following the fortunes of a group of youngsters on community service who plan a complex whisky heist when one of their number discovers he has a talent for whisky tasting. Special guests on the evening will be staff from the Annandale Distillery who will give a brief presentation about their business and a whisky tasting session.
The legendary Julie Felix makes a special visit to A' the Airts on Friday, 9 October, at 7.30pm as part of her current nationwide tour. Julie will be promoting her new album In the Spotlight.
Please see our What's On pages for more details of all these events.
The Autumn programme of our Golden Oldies film club is now out and we have a wonderful set of films to show over the coming months. The club meets every other Tuesday at 1.45pm and the next film will be shown on Tuesday, 29 September. Everyone welcome.