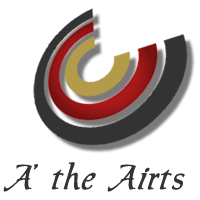 Find out what's been happening at A' the Airts!


22nd November 2014
BOOST FOR HISTORIC SANQUHAR PATTERN KNITWEAR THANKS TO SANTANDER SOCIAL ENTERPISE DEVELOPMENT AWARD!
A' the Airts has launched a major new knitting initiative thanks to an award from Santander Bank. With the money, we hope support a long-term project to produce high-quality knitwear using the traditional, distinctive Sanquhar patterns - two-colour geometric designs that date back to the 17th century. Upper Nithsdale Arts and Crafts Community Initiative won £10,000 in the bank's Social Enterprise Development Awards (SEDA) which are given to social enterprises and trading charities to grow their businesses, thus improving the local community both economically and socially.
Until now, the few existing people in the town who produce items in the Sanquhar pattern haven't been able to meet the huge demand for the knitwear. This generous award has been used to purchase new electronic knitting machines, accessories, laptops and design software, and will support a knitwear supervisor/quality controller. The project has initially been set up next door to A' the Airts, in a small shop at 14 High Street, Sanquhar, which was purchased earlier this year with a grant from the Scottish Land Fund. It opened its door to the public on November 1, the same day that A' the Airts hosted Glasgow University's 'Knitting in the Round: Sanquhar Knitting Workshop', a major event organised by the university's Department of History. Five enthusiastic knitters – Elma Clark, Kate Sloan, Sheila Crompton, Jean Ramsay and Ruth Hanson – have already been recruited onto the project and are starting to create a range of Sanquhar pattern hats, scarves and other items that are being sold in our shop.
We want to attract more local people to participate in the project, especially young knitters. Through this community enterprise we will not only be increasing production of the knitwear, but enhancing the range of items available by developing new designs. We are ultimately trying to resurrect a dying "cottage industry" which will provide income for our community arts centre and for the knitters of Sanquhar. There is already a world-wide interest in the Sanquhar pattern, and once the production of knitwear increases, we hope to introduce on-line sales, opening up an already-established global market. We have had many customers from across the UK, Germany, Australia, the USA and Japan, and a recently published Japanese book on traditional Scottish knitting devoted over 60 pages of text and photographs to the town of Sanquhar and its historic gloves and knitwear.
The flexibility of the new design software means we can also handle special orders and personalised garments. In the near future, additional support may be available from Santander to fund an internship for a recent graduate in knitwear design, who would work alongside the local knitters to enhance and modernise the range of Sanquhar pattern designs. A 'Sanquhar Brand' is also being developed for genuine articles knitted in and around the town, which should guarantee quality control and protect the local provenance of the pattern.
However, the much sought-after Sanquhar gloves can only be hand-knitted, and are usually made to order to customers' requirements. We would also like to develop a high-end market for the gloves and help protect their heritage by passing on the highly-specialised knitting skills to a younger generation. This is a major initiative, not just for Sanquhar, but for Dumfries and Galloway. It has the potential to create jobs and bring other long-term benefits to the local area, as well as contributing to the thriving tourism industry in Southwest  Scotland.