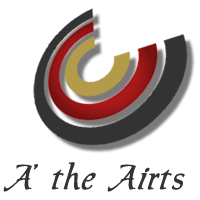 Local people working together to provide benefits to their community
Volunteering Opportunities

A' the Airts is Upper Nithsdale's own Community Arts Centre and we would like to involve as many local residents in the day to day running of the Centre as we can.
We are always looking for local volunteers of all ages and offer a range of different opportunities, including:
Looking after the shop for a few hours a week (no regular commitment required)
Helping out at occasional evening events
Assisting less advantaged people at our arts and crafts groups
Helping to promote A' the Airts throughout the community, which might include distributing leaflets or assisting with the design of marketing materials
IT and website maintenance
Practical help - we particularly need volunteers to help out occasionally with DIY/maintenance
Volunteer instructors for arts and crafts workshops and help with our drama group
By volunteering at A' the Airts, you will meet new people and acquire new skills.  This is your community arts project - please support us.
Contact Anne Foley, Vivienne Duncan or Catriona Dickie for further information - pop in to see us or telephone
Find out more about us: