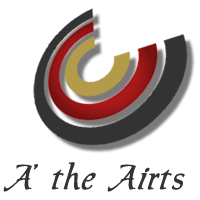 A' the Airts - linking our cultural heritage to our aims
About Us - Our Name

Find out more about us:
Of a' the airts the wind can blaw,
I dearly like the west,
For there the bonie lassie lives,
The lassie I lo'e best.
There's wild-woods grow, and rivers row,
And mony a hill between.
But day and night my fancy's flight
Is ever wi'my Jean.

I see her in the dewy flowers,
I see her sweet and fair.
I hear her in the tunefu' birds,
I hear her charm the air.
There's not a bonie flower that springs,
By fountain, shaw or green.
There's not a bonie bird that sings,
But minds me o' my Jean
The name A' the Airts comes from a Burns poem composed as he rode down the Nith Valley to Dumfries to see his beloved wife Jean:
As an arts and crafts centre we have taken the name to indicate that we are about arts in all its many forms – popular, amateur, professional, literature, creative arts, films and performances.
In fact "airts" actually means "places" – and this is fitting too, because although the centre is based in Sanquhar it brings together all the communities of Upper Nithsdale including Kirkconnel and Kelloholm as well as Wanlockhead – and we welcome people from places further afield to visit.