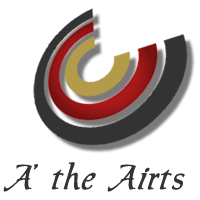 Realising the dream - reflecting on 10 years of commitment and hard work
About Us - History

Find out more about us:
In 2000 some Sanquhar residents had the vision of turning a derelict site in the High Street into an arts, crafts and cultural centre, to help with the regeneration of the area. Local consultation showed considerable support for the idea.
After a lot of hard work and considerable commitment, funding was acquired to purchase the site and building work commenced, but ceased in 2008 when some expected funding was lost. In the meantime, a group called "Friends of A' the Airts" was set up to organise cultural activities in Upper Nithsdale.
With support from the Big Lottery and the Scottish Government, among others, building started again in April 2010, and the centre was finally completed in November 2010. We had a fantastic opening day on 20th November 2010 – with over 500 people through the doors.
An official opening followed on 2nd December, when local solicitor Kenneth McLean unveiled a plaque and thanked our many supporters.
Since then we have had a varied programme of events, including music, drama and poetry. The café and the shop are thriving. We are building partnerships with other local and non-local organisations, and there is increasing interest in the centre as a base for a wide variety of arts, crafts and cultural activities.
In 2013/14, our project has continued to receive support from the Big Lottery Growing Community Assets Fund and Dumfries and Galloway Council, as well as project related funding from the Hugh Fraser Foundation. Gannochy Trust and Foundation Scotland.