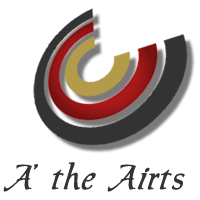 Working together to achieve our aims and benefit the community
About Us - Our Aims

Mission Statement: "We contribute to the social, economic and cultural well-being of the communities of Upper Nithsdale by actively encouraging participation in a range of art, craft and related activities."
Find out more about us:
Aims:
to provide opportunities for people to enjoy arts and crafts and to provide a valued entertainment resource in the area

to promote the work of artists and craftspeople in Upper Nithsdale,showcase their work and to assist them to develop their economic viability
to increase community engagement by working with other groups in the area, supporting young people, the elderly and the disadvantaged,
to attract tourists into the area, to benefit all local businesses and help with economic regeneration.

Upper Nithsdale has an amazing amount of talent and rich cultural traditions, which people who live here are very proud of, and want to share. We are also a place where artists and performers from outside the area receive a warm Upper Nithsdale reception.

Most of all we want this community arts centre to be for everybody, with events and classes and workshops and exhibitions for people of all ages and from all sections of the community. We welcome everyone through our doors – and also welcome people's contributions, whether through volunteering or donations or simply telling us what you think and what you would like to see happen.